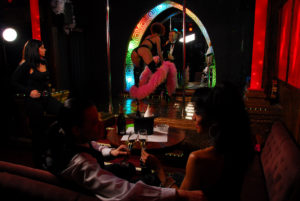 Chez Michelle – the nightclub for guests with special requirements
Business before pleasure? Not at Chez Michelle! This establishment can give you a platform where you can mix business with pleasure.
Discerning environment – for the discerning business partner
Scenario 1:
A meeting is lined up. You need to motivate this customer to close a business deal by any means necessary. This is not your ordinary customer, that much quickly became obvious when you first made contact. One thing is clear: a boring meal won't help you break through their reserves.
So, what's the alternative?
Scenario 2:
You're in Berlin – the city that never seems to sleep. Perhaps you're just passing through. You spent the whole day at a trade fair, visiting customers, treating patients or something similar. You're tired and you're tense. You want to experience something, to soak up a bit of city life.
Where can you really let off steam?
Scenario 3:
Your employees have generated very profitable sales this business year. You want to show your appreciation. You want to give them an unforgettable evening and keep improving the working atmosphere and level of commitment.
Where is the ideal place for your company party?
The solution for these scenarios is right in front on you!
Visit the oldest Gentlemen's Club in Berlin, "Chez Michelle", and experience a night of adventure and seduction in a stylish and luxurious atmosphere.
An insider tip for discrete and thrilling celebrations
Chez Michelle is a top-drawer establishment and the number 1 address when it comes to eroticism, a club atmosphere and show dancers. The famous nightclub gives its guests sophisticated entertainment in a refined atmosphere and is among the highlights of Berlin's night life.
Making a reservation for a company party, a customer meeting, an evening to get away from it all and pursue your secret fantasies is actually really easy.
You have the following options:
Online:
You'll be given a short form. You can use this to specify the number of guests, the reason for the visit, contact details and, of course, any special requests. (An erotic massage or a private dance, for example).
Consultation and reservation by email/phone:
This option allows you to discuss what the nightclub has to offer in more detail and to express any desires you may have. You can also ask for tips for a successful company party or a meeting you're hoping to close a deal at.
The facts
Bought tickets come with welcome drinks.
There is no minimum consumption and no membership fee at the Gentlemen's Club.
From 9 pm onwards, the nightclub offers its guests a masterpiece of elegant, seductive dance rounded off with the best spirits and melodious music and underscored by the latest technology.
The establishment's clients can regularly enjoy surprises and top-drawer events.
The establishment's clients can regularly enjoy surprises and top-drawer events.
Be seduced – the world of Chez Michelle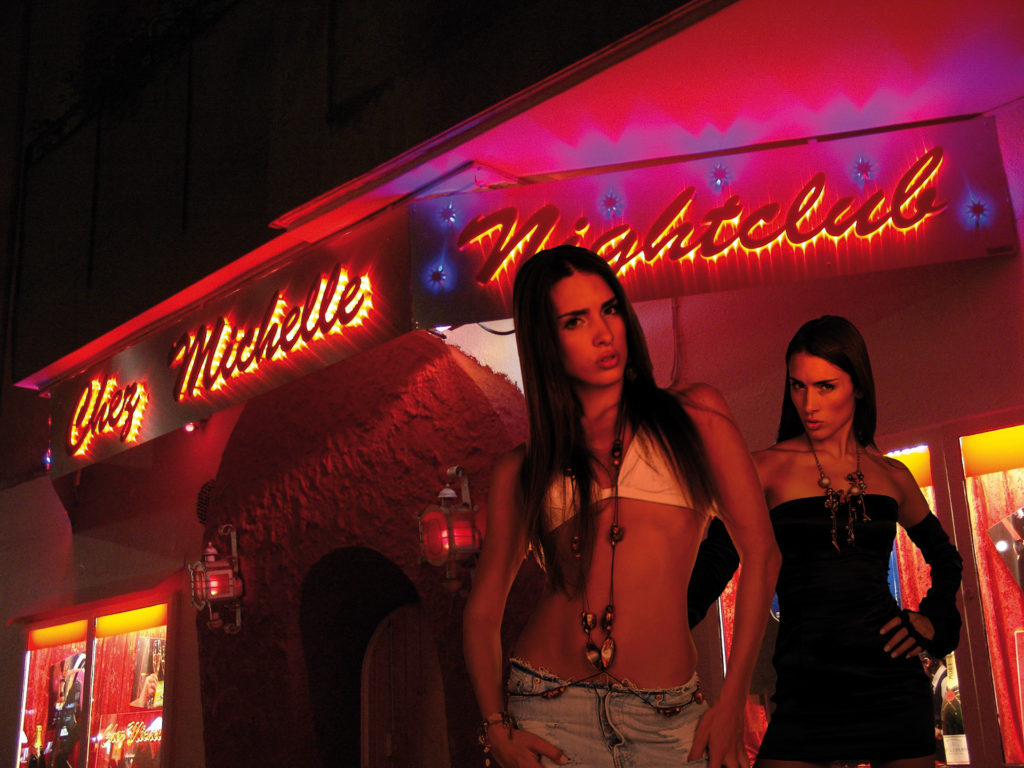 Enough talking about business, now come along on an adventure that will really get your blood racing!
The ambience in the Gentlemen's Club is stylish and luxurious.
The venue has a bar. Guests can observe the sensual and inspiring events from there. The bar also lends itself as a place to make first contact with the "girls of the club".
First glances are exchanged. You choose the woman who gets your pulse racing. You beckon her over. The hot dancer walks towards you, hips swaying from side to side as she does. She presents herself to you, standing before you in lingerie and touches you gently on the arm. She smells unbelievably good and makes you want more.
Up to 20 international show dancers will be present on any given night. All the girls speak German or English and have a neat and sexy appearance. Each of the ladies will be wearing an attractive costume and/or lingerie which reveal their full beauty.
The dancers usually make first contact with the guests. They focus on the needs and desires of every man.
The erotic woman stands before you softly caressing her neckline. She runs her hand through your hair. She dances to the hot rhythm and lets a piece of her slip fall down. You breathe heavily and want to touch, not just look. She notices your desire and pulls you into one of the little booths. You draw closer to each other on one of the sofas. You can finally touch her.
The cosy little corners in the Gentlemen's Club provide the ideal opportunity for physical contact. In this place, you also have the chance to ask about other options, such as an erotic massage or a private dance.
Your playmate won't let you catch your breath. She continues to dance in front of you, touching you with her bum. She shows you her breasts and really gets you going. You let yourself fall, you're in a totally different world. You forget your everyday life and your work, you leave all your stress behind and enjoy the moment. You light a cigar, drink champagne and feel like you're king of the world. You'll be thoroughly spoilt at the Chez Michelle nightclub.
The staff and the showgirls read your every desire from your eyes and passionately take care of you and your guests.
If you need to cool down every now and then, you can do it in comfort in the "Champagne Whirlpool". Perhaps with some company?
You got the taste for it after your first adventure. You want to experience more and go back to the bar. From there you can watch the diverse goings-on. A Latin-American woman with a Venetian mask, lingerie embroidered with sequins and a feather boa dances at the dancing pole. She has a powerful gaze, she knows exactly what she's doing. She has long, curly brown hair and tanned skin. Her teeth are pearly white, and her smile is provocative. You approach her.
The dancers don't give their audience a usual striptease; they express their fantasies and desires through their dancing. Although they practise professional choreography, each dance is individual and shows something of each showgirl's personality.
Plan an unforgettable trip through the world of eroticism. Delight yourself and your business clients with an unforgettable evening.
Be our guest at Chez Michelle!